The Villa del Palmar Beach Resort and Spa
is an excellent property located on El Medano beach and has views of Cabos famous Arco. It's a 20 minute walk from downtown and only a short drive from the airport. Recently renovated, you will find the hotel freshly painted in warm earth tones, encapsulating the Mexican feel.
One of the renovations included refinishing the signature whale slide, a personal favorite of guests. The sundeck is gorgeous and there is a fire pit-accented Lunge Bar, be sure to try their fresh margaritas. The property also now boasts a new boutique for necessities as well as other luxuries. The rooms have also been updated and feature satellite TV, central air, purified drinking water, dining tables and kitchenettes (or kitchens) with refrigerators, microwaves, toasters, coffeemakers and two burners. The kitchenettes can come in very handy as eating out can get pricy.
There are two restaurants you may dine at as well as a cafe, bar and room service. The resort also has a market, laundromat and video store. Should you choose an all-inclusive room, you will be treated to a la carte and buffet breakfast, lunch and dinner at all of the restaurants and bars with 40% off Kobe, Angus Beef, lobster and shrimp dishes. The National Bar offers selected liquors, cocktails, beers, water and soft drinks as well as house wine by the glass. Snacks and drinks are provided at the pool area, live entertainment and theme nights at Tortugas Restaurant, daytime beach and pool activities and use of gym at the resort as well as non-motorized water sports.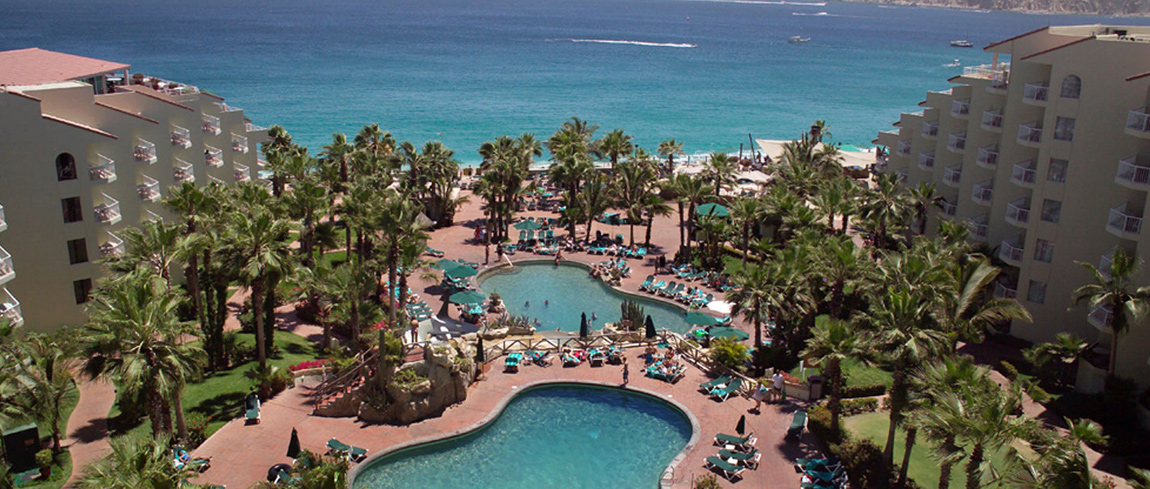 Some tips for travelers to Cabo and specifically this resort, bring small bills ($10-$15) as USD is widely used and it is difficult to get change for large bills. Great places to eat include The Crazy Lobster, Tabasco's, and The Office (great entertainment show on Thursday night) – to save some money pop over to Walmart and stock up on a few items.
The beach area is lovely, but there are a lot of venders, simply say no and be on your way, the same goes for anyone selling time shares, a polite no and they won't keep bothering you.
This is a family friendly resort as well and you will find many things to do, aside from relax of course. They offer aqua-aerobics, water volleyball, on-site activities such as scuba diving, cooking lessons, a techno-arcade and even theme nights featuring mariachi music, talent shows and more. The views and sandy beaches are gorgeous, and The Desert Spa is there to pamper you silly with invigorating treatments made from fruit and herb extracts that are native to the Baja California area.
Located near the Villa Groups sister hotels, Villa del Arco Beach Resort & Spa and Villa La Estancia as well as downtown Cabo San Lucas, you will find it very easy to enjoy yourself here.