The only reason not to book your vacation at the Pueblo Bonito Sunset Beach (Deluxe All-Inclusive)
is if you don't want to return again and again. The atmosphere of this place is intoxicating and the friendly staff are warm and welcoming, making not only the stunning views a reason to come, but the entire experience is what a vacation should be.
If you think the photos are amazing, you won't believe your eyes when you are actually there, the suites are set high into the cliffs so you have a breathtaking view of the Pacific. The pools on the grounds are…there are no words, specifically the sky/infinity pool. If you are looking for peace and serenity, then definitely visit the infinity pool. You likely won't want to leave it.
You don't have to worry about any language barriers in this Cabo San Lucas location, everyone is bilingual. This specific resort is on a private beach, which is lovely, as you won't be bothered by vendors, however if you want a location that is a little more for a younger crowd with bards 20 feet away, you'll want to check out the Sunset Beach's sister resort, Rose.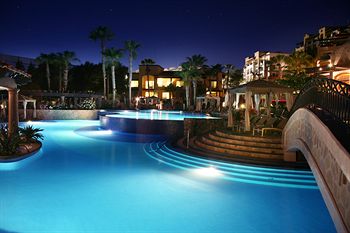 This resort however is one of the best ones you may ever encounter, the amazing detail that was put into the construction will astound, and the maintaining of it is even more impressive. From the lobby, to the cigar lounge and restaurants, to the amazing pools you can visit everything is decorated beautifully and is spotless.
For those who book a room with a large terrace, not only will you get an amazing view to soak in, but a hot tub as well. You may find negative reviews of this establishment, however that only is a testament that you can't please everyone. This place comes near to perfection. The grounds are gigantic though, so if you have any issues getting around it may not be for you. There are carts that will take you where you want to go, and you can walk to some places, but it is expansive to say the least.
A few tips for travelers: carry small bills/change for tipping. You'll be taking shuttles, taxis, carts etc to get to each location. The deli by the lobby is a great place for a snack. For those who want to visit bars, be warned that nightlight will require transportation.
There is a poolside bar, a swim-up bar, children's swimming pool, a spa tub as well as a full-service health spa. There are beauty services available as well as dry cleaning/laundry. Some of the room amenities include, premium TV channels, pay movies, exquisite bedding, climate control, ceiling fan and air conditioning. There are bathrobes, a minibar, complimentary toiletries, hair dryer, and more. There is also in-room massage available. There is a surcharge for wireless internet access.
For families, there are roll-away/extra beds available as well as cribs/infant beds, so you won't have to worry, even though it is paradise for adults, it is still very family friendly.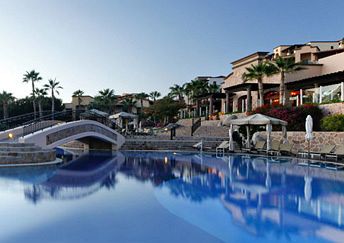 If you decide to book a Pueblo Bonito Sunset Beach Deluxe All-Inclusive resort vacation, you will be traveling to paradise, beyond paradise really. The location alone would have been enough, but to top that off they built an amazing facility, staffed it with warm and friendly people and made it a place you will want to visit time and time again.