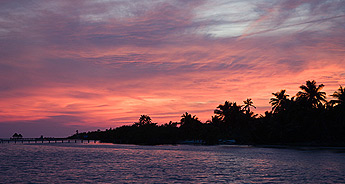 There are some absolutely stunning Ambergris Caye Resorts in Belize that will make your stay to in this tropical paradise even that much more magical. One of the most beautiful resorts you will find here is the Pelican Reef Villas Resort in San Pedro. The Pelican Reef Villas received Traveler's Choice in 2012 for Best Service and when you first arrive you will see why.
The staff are exceptional at making sure you are well taken care of from your stay at the villas in addition to any excursions you wish to do. They are helpful and kind and always there for whatever you need.
There are just 24 accommodations on site so the Pelican Reef Villas are a small intimate setting, which allows the staff to be very present with their guests. Each Villa has a view deck which allows you to enjoy the coastline setting in the best possible way. The furnishings are sublime within each villa, while you may be out a lot during your stay, when you are inside you will feel totally pampered.
There are many packages and specials available including scuba diving and snorkeling trips to the breathtaking Blue Hole & Lighthouse Reef. You can also zipline, go sailing or go fishing. There are also adventure tours to Mayan Ruins and Jungle Cave Tubing There are so many amazing activities here, you can mix your time with adventure as well as relaxation.
The location of the Pelican Reef Villas Resort is perfect for taking all of these excursions, many leave right from the nearby pier which is basically on the front doorstep to the hotel. There is also a very beautiful pool that allows you to swim up to a bar, a perfect place to relax after a long day of adventuring.
While there are many brilliant Ambergris Caye Resorts you can choose from, and it may be hard to go wrong in such a beautiful setting, the Pelican Reef Villas is a highlight due to the amazing service from staff and the care they have taken to make each villa and the grounds like something from a dream you step into upon arrival. You're going to wish your home was as nice as these rooms and the view and sound of the ocean will lull you to sleep each night after the incredible adventures you have each day.
If you have been looking for a tropical paradise that offers not just a place to relax but with amazing adventures than the Pelican Reef Villas is the Ambergris Caye Resort for you. It will feel like a home away from home that you probably won't want to go home from.